It seems somewhat incredulous that I am writing a blog celebrating the 10th anniversary of our first Chelsea FanCast.
But, ten years ago to the day, Dr Mart, Sheridan Bird and myself gathered round a table in Putney Station bar and recorded the first show. April 28th 2008. Chelsea had beaten Man Utd 2-1 at home a couple of days before with Ballack scoring two goals. Next up was the second leg of the Champions' League semi-final against Liverpool. The tie was finely poised at 1-1. We all know what happened next but at the time we were salivating at the prospect of the Chelsea's first Champions' League final.
What a great time to start a podcast. We had no idea then that we'd still be doing it ten years after.
The little known fact about the Chelsea Fancast is that we didn't start it. The first few shows were recorded by David Johnstone of cfcuk fame, Kelvin Barker and Cliff Auger. Sadly those shows are lost to the mists of time. Anyway, these chaps clearly realised the ball ache in producing a show every week and soon gave it up. We stepped in and the rest as they say is history.
The show has evolved massively in the 10 years we have been doing it. But while the characters may have changed, the song remains the same.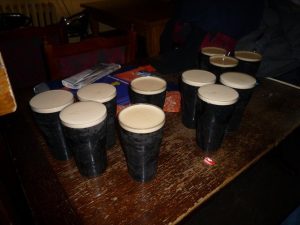 Starting in the Putney Station bar, we used to record right after the match. We were intent on not letting the broadcasting get in the way of the football and the drinking so to say that the shows were anarchic, emotional and somewhat tipsy would be an understatement. In those days the Chelsea FanCast was most definitely fueled by Guinness.
The then line up of Stamford Chidge, Dr Mart, ChelTel, the Blues Brothers – Stu and Chris Norman and Pablo and Ross Mooring thought about it and for sanity's sake decided to record the show on a non match day!
One of the things we loved most about doing the show in Putney Station was the lovely bar staff supplying us with endless drink and the listeners often from all over the world who would turn up and join in the show on the 'benches'.
We made the progression to broadcasting live from Putney Station thanks to mixlr and then got the offer to move the show to TV for cable channel Sports Tonight Live but not before being filmed in Putney Station by ITV news and also throwing an end of season 'Rafa Out' party where the band that wrote the title music for the show – The Beautiful Game – played an acoustic set for us. Bobby Tambling made a guest appearance at the party and of course was the star of the show!
This tradition of the 'Benches' transferred to the show on TV on the Sports Tonight Live channel, which gave us the opportunity to reach a new audience and to utilise the visual medium with graphics, videos, Skype calls and all sorts of madness. A high point for us but perhaps not for broadcasting was the show of us being filmed watching the Man City v Chelsea game – not for the feint hearted and certainly not out of the traditional commentary play book.
One of the key themes of the show has always been the various guests from the world of Chelsea we invite on the show.
Mark Worrall was our first special guest on show 41 talking about his books. Mark has of course become one of the regulars in the Chelsea Fancast line up. Mark came back a year later with DJ and Kelvin Barker to talk about the book "Chelsea Here, Chelsea There".
Jason Cundy was our second guest – comparing his leaps in the air to head the ball like leaping like a salmon – a tin of salmon. Jason of course can be heard in the stings we use in every show to this day.
We've also had Alan Hudson as a guest talking about how he persuaded Frank Lampard senior to get Frank Lampard junior to sign for Chelsea and he tried to give his European Cup Winners Cup medal away as a prize on the show – we wouldn't let him.
Mickey Thomas also joined us and was hugely entertaining and Paul Canoville has been on the show at least 6 times and has always been a favourite – a lovely, sweet man, full of fun – we gave him a signed match ball by us for his hat trick appearance.
Add to this Boxing champ Darren Barker, Neil 'Spy' Barnet, Henry Winter, John King and Martin Knight and many many others too numerous to mention.
As well as the anarchy and chaos we brought to the airwaves, the Chelsea FanCast has always had a more serious and campaigning side to it. We did a show on media bias against Chelsea with Neil Ashton, Rob Shepherd and Martin Lipton and we did one on the Chelsea Pitch Owners when the club attempted to buy out the shareholders.
The Chelsea FanCast has had a seat at the table of the Official Fans Forum since 2010 and many of the show's line up were instrumental in setting up the Chelsea Supporters' Trust in 2013. Stamford Chidge is in his second year as Chairman of the Trust and Dan Silver serves on the Board. Supporters interests have always been very much at the heart of what the FanCast is about.
We've not been confined to recording the shows in the UK. We recorded a show in the Fox and Hounds in Los Angeles coinciding with Chelsea's match against inter Milan in 2009 and met loads of listeners in Lucky Baldwins beforehand. We watched a game with the San Diego Blues in Phileas Foggs and even did a show in Dubai and met Chelsea supporters in Melbourne when Stamford Chidge was on holiday there.
One of the things that has set the show apart over the last ten years is how many friends we have made all over the world. We've been lucky to meet so many of them abroad and also when they have visited Stamford Bridge in the pubs and at the match.
So many memories so much fun. Like following Chelsea, doing the Chelsea FanCast has been a roller coaster of 'glorious unpredictability'. Through the lows of Moscow; Rafa; losing Ancelotti and Robbie; Jose again and finishing 10th to the highs of title wins; double wins; FA Cup wins. Obvious high points included the Champions League win in Munich where we gathered beforehand in the Augusteiner Biergarten just north of Haupt Bahnhoff and the Europa cup win celebrated in the Southern Cross for those of us not lucky enough to be in Amsterdam.
But we also enjoyed success and trophies of our own winning the Football Blogging Awards Best Podcast award in 2012 and 2015!
I'd like to think that the show goes from strength to strength. While we no longer get the chance to record each show in a pub, due to Chidge's work commitments, we like many other podcasts record virtually via the internet, but hopefully the dynamic, humour and quality of debate have been unaffected.
We've added the Kerry Dixon show to the schedule recording a show with Chelsea's third highest goal scorer and an absolute legend every Thursday. I can't tell you what a privilege it is to do a show with Kerry every week.
Recently we were approached by new London based radio station, Love Sport Radio to produce their Chelsea Fans show. The Chelsea FanCast does a live radio show with them every Friday between 7.00 pm and 9.00 pm and better still listeners can phone in and join the debate.
So, three shows a week not to mention the great content corralled by the website's editor Llion Carbis and our team of passionate writers. All because a few mates liked talking about Chelsea over a pint or three.
Ultimately though, the show is defined by two things – friendship and Chelsea. We are basically a group of friends who love Chelsea, go to the matches together and drink in the pubs before and afterward and then record a show talking about the match and the experience as if we were still in the pub talking about it! And now we've done that for ten years…
The fact that by doing what we love has made us even more friends at the matches and from all over the world genuinely blows are minds. We can't thank you enough!
But after ten years it is high time we thanked all of you who have traveled the FanCast journey with us for the last ten years…
The original, one and only Dr Mart (especially when he forgot to turn the microphone on!)
Stuart Norman and 'Celery Terrorist' Chris Norman aka the Blues Brothers plus Phil their Dad for his inspiration and threats.
ChelTel – especially his 'Tales from the Shed'; strange phone calls from Arsene Wenger and "Northerners are real people, with real emotions!"
Ross Mooring (Celery is nothing to be scared of)
Pablo (not least for organising Wembley tickets)
Darren "Dazza Mental" Mantle for his ranting, his performance at the first Football Blogging Awards where he was found under a table in a dodgy pub in Manchester, but not for his farts
Lauren – for her lovely voice, cheery demeanor and for adding some feminine class to the show; the first lady of the Chelsea Fancast.
Jonathan Kydd – especially for his many voices, reading the emails, upstaging Chidge and when "it's not working for him". When it is he has become Chidge's right hand man and part of the best double act since 'Hinge and Bracket'.
Seb O'Mahoney for his intelligence and knowledge
The Beautiful Game – for the use of their music, being a brilliant band and great drinking buddies.
Sophie Rose – who has gone on to greater things but hopefully we helped her on her way. Chidge is especially grateful for his poor jokes going over her head.
Dan Silver – a stalwart for the FanCast over recent years having been promoted from the Benches – one of the nicest guys you'll meet at Chelsea.
Tony Glover – who defected from the superb 'Podding Shed' and has added common sense, passion and a diverse array of swearing to the show.
Clayton Beerman – our goalkeeping expert and currently our rep on the Fans Forum as well as a frequent contributor to the website and an author in his on right.
Alex Churchill (The Girl Who Likes Balls) – the other half of the 'smut buddies' with Tony Glover; slightly mad, very passionate and one of the most talented writers writing about Chelsea
Mark Worrall – a man who needs no introduction, who started as a special guest on the show and is now one of our most popular regulars – a privilege for me to call him a friend.
Dan Levene – a great friend, highly principled and an excellent journalist flying the Blue Flag for Chelsea and providing great insight to the show.
Tim Rolls – always entertaining on the show and becoming an established author on Chelsea
Liam Twomey – a rising journalistic star with ESPN and like so many a privilege for us that he shares his insight on the show
Oliver Harbord – another young journalist Ollie has made a great contribution to the shows over the last year or so and he lets Chidge write for Football.London.
Joe Tweeds – known for his incredibly detailed blogs and knowledge of loan players and players that most of us haven't heard of.
Lion Carbis – who works incredibly hard to do something Chidge never managed to do, namely write for and edit the website to make something of it. He does a great job.
Walter Otton – one of the most talented Chelsea writers out there and without doubt one of the nicest blokes you'll ever meet at Chelsea. Has occasionally been seen wearing orange shorts.
David Johnstone – the Godfather of Chelsea writers. There is nothing and nobody he doesn't know at Chelsea. His fanzine cfcuk is legendary and his support of us and many others shows where his heart is at.
Kelvin Barker – one of my favourite authors and people – there is no one who knows more about Chelsea in the 1980's than him. I suspect the reason for this is that he doesn't drink.
Beth Wild and all at Chelsea in America – as well as being the driving force behind proper American support over the years, Beth and the CiA mob have always been a great support to us and its been a pleasure whenever Beth came on the show.
Chelsea Chadder – for his stats and jumpers
London is Blue – our cousins from over the pond. Having been inspired by us to start a podcast they have grown into a widely respected show on both sides of the pond. We help them and they help us. Sympatico.
Rick Glanvill – another in the long list of lovely Chelsea people. Always a pleasure having Rick on the show, we should get him on more often. As Chelsea's official historian his Chelsea knowledge is unparalleled.
Michael Roban – our official Los Angeles Chelsea correspondent. We love Michael for his Bob Bubka like voice and warm hospitality in LA and London whenever we catch up with him, which is not enough.
Bryan at Expose designs – a top man who generously sponsored us in the early days and allowed us to have such a great party in 2013.
Greg, Steve and Chaz the crew from the Sports Tonight Live days
ChelseaFan12.Com – for their sponsorship of the Kerry Dixon Show
The Benches feat. Andy Silverman; Garfield Bailey, Martin Wickham, Rahim and Harry, Nikki and Leah Davidson, Buncey, Jonny T, Tommy, Pete the 'Oxford Drinking Machine', Smithy, Jason Coveyduck, Bobby D'Elsini, Cliff 'the Blue Yank' Cravello to name but a few of you.
Apologies to the many we haven't named such as those in the Facebook group who kick started it all; Chelsea Blue Bloods, the followers on twitter and the wonderful people on Patreon who donate a monthly payment to keep us going. And to all of you who we have met at the matches and in the pubs and been lucky enough to have a pint or two with. Thank you.
Last but by no means least Martin, Niall, James (and Sarah) from Football FanCast and Snack Media who have been incredibly tolerant and long suffering in supporting us through the website and podcast for the last ten years.
So from Singing 'Strolling' (very badly) and 'Buy The Boys a Beer' plus murdering classic Chelsea songs;
Bad jokes; worse puns and double entendre; Menang; tumbleweed; not being PC; Rafa Out; Fannies; fueled by Guinness and powered by Celery – thank you so much to all of you who have helped and contributed.
Here's to the next ten years!
Keep it Blue, Keep it Carefree, Up The Chels!