In an exclusive interview with the Fancast, Neil Shipperley talks with Simon Phillips about the Blues.
Football has changed a considerable amount since 1992 when former player Neil Shipperley was attempting to break through the youth ranks at Chelsea football club. It was a time of transition at the club, but a time that was full of excitement and fond memories for the Chatham born striker.
We caught up with the now 43-year old, who was just 15 years of age when he was a youngster at Chelsea, to talk about the club back then, and his views on today's current affairs.
Shipperley had a colourful career in the top flight of English football, and as well as Chelsea, he had some good spells at Crystal Palace, Southampton, Barnsley, Wimbledon and Sheffield United.
Many footballers turn to coaching when they stop playing, as you'd imagine football being part of their life for such a long time, for it all to just stop, would be mentally straining. This was the case for Neil. He says.
"Since retiring from playing in 2013, I tried my hand at non-league management. I managed three teams (Bedfont, Walton Casuals and North Greenford United) but gave that up a few years ago. In the end, I started to get frustrated with it, and I'm surprised that I lasted that long. I don't see myself going back into non-league. I have been doing the Knowledge to become a black taxi driver on and off for a few years now, and hopefully, I will pass it sometime soon. I'm also coaching my boy's football team (NPL Teddington U14's), which I am enjoying as it is a great age for the kids to learn".
As a schoolboy growing up in the late 80s/early 90s, it would be the dream for any Londoner to play for one of the biggest clubs in English football, this was a dream that for most would remain that. But for Neil, this would become a reality, he tells us.
"I joined Chelsea as a schoolboy at 15 years old, but never actually played for the boys' side, and went straight into the South East Counties side. I had been playing men's football before signing for Chelsea, so was probably a bit ahead of others regarding the physical side of it."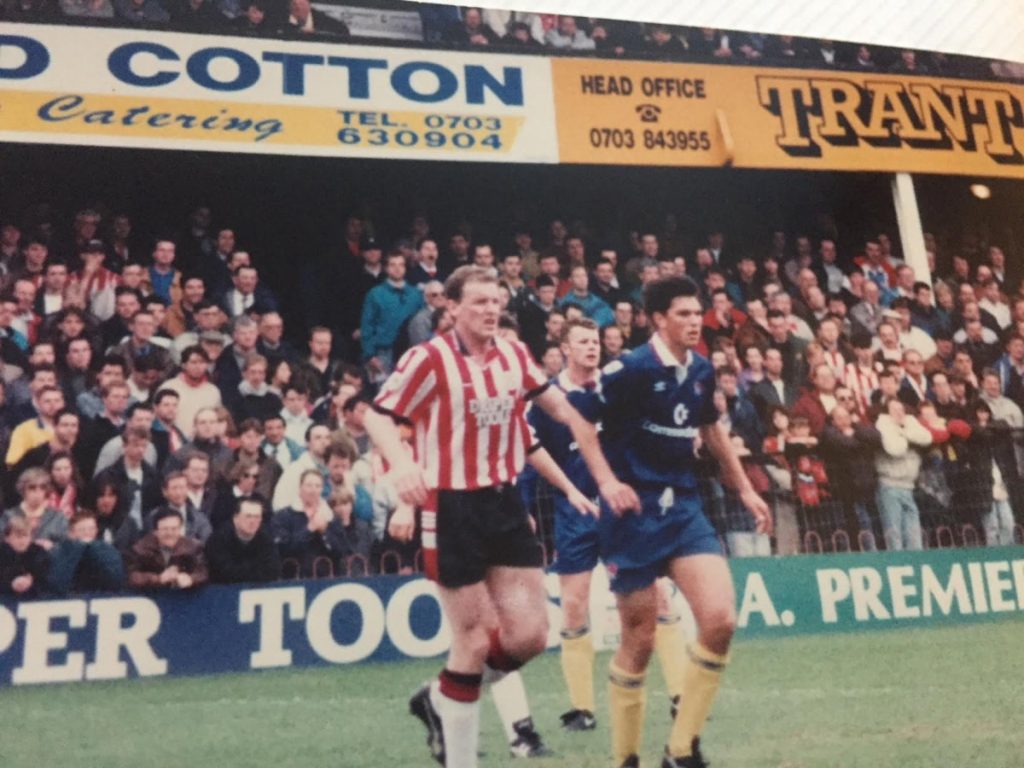 Neil was a real talent that had an eye for goal, and that was clearly being watched by many scouts in the country, and he was touted for success, as he explains.
"Before I signed for Chelsea, I had the pick of lots of clubs as my Dad, who was managing me at the time, was fending off a lot of the scouts and has his own idea of my route into professional football. But, he knew Frank Sibley who was involved with Chelsea at the time, and he knew he was no longer going to be my manager and felt the time was right to let me go. I did not doubt making it as a Pro and getting into the first team".
Many believed that Neil would go on to represent England at a senior level, and although this did not blossom, he was very proud of gaining youth caps for his country.
"I managed to get 7 England Under 21 Caps and scored three goals, which I cherish, and I know it's not a full Cap, but it is something that I'm proud of and cannot be taken away from me".
It wouldn't take long for Neil to gain his eagerly awaited first-team debut, a moment that will stick with him forever as he fondly remembers that day in 92′.
"I came on as a sub for Robert Fleck at Southampton; I came on for 8 minutes (I think). I was very nervous, but this was something I had been waiting for, for a long time. I very nearly nicked a goal by trying to get on the end of a cross, but it wasn't to be, but I loved it."
It wouldn't take long though, for the man who notched over 100 goals in his playing career, to get his first cherished goal for Chelsea, which was also on his home debut in front of the Stamford Bridge faithful.
"My home debut was against Wimbledon two days later, which also happened to be my Dad's birthday, and I scored, which was a dream come true. I remember I had used up so much nervous energy that day, which after I scored, I got cramp and could hardly get myself back to the half-way line. On the way home after the game my dad, who was himself once a professional footballer but never played in the top flight, said to me; 'well son, you've done better than I ever did'".
Neil played under some great managers in his career, but it was his experience of playing for Glenn Hoddle at Chelsea that offers mixed emotions for him. A time of difficulties and uncertainty at a club that was clearly changing.
"The club was in a big transitional period, and Glenn Hoddle deserves a lot of credit for this and attracting the type of players such as Gianfranco Zola, Ruud Gullit and Gianluca Vialli. I have to admit it I regret that I wasn't about at that time to get to experience playing with these type of players as you can only learn and better yourself by doing so. As for Hoddle, back then I couldn't really compare him as a manager but looking back now from what I know after my experience with other managers, his man-manager skills were not the best, to say the least".

"When I went to Watford on loan it was shortly after the Austria Vienna game away, which I got rave reviews in and really did think that the loan move was only going to be a loan. But, I enjoyed it there playing under Glenn Roeder, obviously a different manager, different voice, and different players, it was a great experience for me".
It was then that it hit home for Neil that his dream Chelsea career may not have the longevity that he fully expected it to have deep down in his heart.
"Then the bombshell. When I got back to Chelsea and got pulled into the non-luxury office at Harlington (with a pay-phone on the wall) to get told that they have accepted a bid from Southampton and that I was to go and talk to them. I was gutted as I was naive and thought I could maybe be the next Kerry Dixon and stay for years. But I soon learnt that moving on was the norm and got used to it".
Neil was at Chelsea from 1992 until 1995, when he joined Southampton for £1.25 million, which was a record fee for the Saints at the time. Shipperley was rated highly and had already turned into a fans favourite at Chelsea, which was why it somewhat came as a surprise that the club sold him on after only 37 appearances and seven goals for the club.
But Neil was already competing with Mick Harford, Robert Fleck, Tony Cascarino, Mark Stein, Paul Furlong and John Spencer, and the club already had plans in place to bring in the big names such as Gianfranco Zola and Gianluca Vialli. It was an uphill task, and the club decided to sell Neil.
Despite this, Neil was left with fond memories of Chelsea, and had his blood turned blue like many of us. He started as a blue, and stayed a blue, supporting the club closely even after he left.
"I did love my time at Chelsea and wouldn't swap it for the world. I'm very proud to have played for the club; I think the supporters are second to none, loved walking out of the tunnel on to the pitch, always a special feeling, although I'm glad the music has changed now. I don't think Tina Turner You're Simply the Best will be making a come-back anytime soon!
Yes, the music has certainly gotten a lot better since that cringe-worthy classic! But Neil, he's one of us.
"I followed Chelsea religiously when I retired, even bought a few season tickets for a number of years and went with my son".
So like many of us supporters, Neil has been somewhat surprised witnessing the stuttering season this year and believes that Antonio Conte has reached the end of his Chelsea career.
"To not make the top four this season is just not acceptable for Chelsea's standard. I love Conte and feel what he achieved last season shows he more than knows what he is doing. But there have obviously been things happening behind the scenes as he doesn't look like the same man. So, it looks like there is a good chance he will be at a different club next season. I hope I'm wrong and he sorts out whatever the issue is but, body language normally doesn't lie, and his press conferences show that in abundance. I can't put my finger on what has gone wrong, but I think the players have noticed the mood swing in the club and maybe that shows on the pitch".

"If Conte does go, then obviously we need a top-drawer manager with lots of experience at the top level. It seems that the old-fashioned manager who is in complete charge of everything or at least has a say in everything that goes on, has now gone. It is only my opinion, but if there are people at the club, for example, trying to get players in, who the manager has not expressed an interest in, or doesn't want them, then you can understand why everything doesn't run smoothly".
Neil also believes in the integration of youth, as many of us have been saying this year…
"I know it's hard at the very top at a club like Chelsea and you want instant success, but Chelsea have so many players on loan and young kids doing well in their age group. It would be great to see a few of them given a chance. Look at Liverpool with their full-backs, for example, I know it's a bold shout and is brave for a manager or club, but the fans would love it".
Eden Hazard is a player whose Chelsea future is uncertain, but Neil believes that this is one man we should do our all to keep hold of…
"You won't realise how good he (Hazard) really is until he is not there anymore. He really is the heartbeat of everything that goes on, and an incredible footballer".
Chelsea Fancast would like to thank Neil for his time and thoughts here, and best of luck getting your cabbie license! What are your thoughts? Let us know!